Land Transportation Franchising and Regulatory Board (LTFRB) regional director Porfirio Clavel has appealed to the Iloilo Convention and Visitors Bureau (ICVB) to stop imposing P80 gratuity on top of the metered fare rate to taxi passengers going to the new Iloilo Airport in Cabatuan.
Clavel said he has asked the help of Department of Tourism (DOT) regional director Edwin Trompeta to have a dialog with representatives from ICVB last Friday but it did not materialize.
Media outlets in Iloilo City fell victim to a big joke Saturday for its blow-by-blow coverage of an ensuing hostage drama in La Paz district which turned out to be just a drill of the newly formed Special Weapons and Tactics (SWAT) team of the Iloilo City Police Office.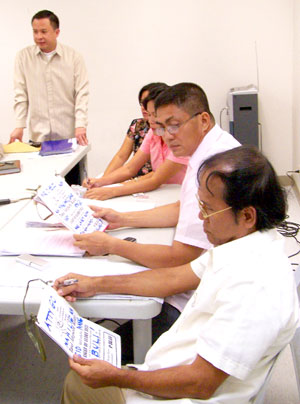 A. Chris Fernandez
A total of fifteen Iloilo mayors, majority in public office for at least nine years mark the first week of "civilian" life today.
From multi-awarded former Concepcion Mayor Raul Banias of the Fifth District to highly-controversial former Tigbauan Mayor Myrna Torres of the First District, it would literally be a fresh start on the governance and town administration of these fifteen Iloilo towns.