Giant mushroom crops up in Roxas City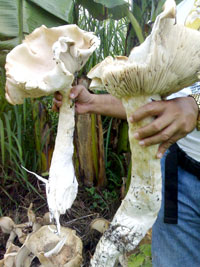 The rare and giant mushroom of still
unidentified specie has a stem of two
inches in diameter or 30 times bigger
than the normal size mushroom.
Photo courtesy of Cable TV Program
Budyong Kapehan and Rexam Laguda
Roxas City -- A colony of unknown species of "giant mushrooms" was discovered by a resident of Arnaldo Boulevard in Brgy. Baybay here recently.
City agricultural authorities are now coordinating efforts with concerned government agencies to examine if the newly found mushroom is edible and capable of artificial propagation.
Initial coordination has already been conducted with the Capiz State University (CapSu), Department of Environment and Natural Resources (DENR), and Department of Science and Technology for the identification of the rare mushroom specie.
"The stipe of the mushroom is more or less two inches in diameter and more than 30 times bigger than the normal size of a mushroom stipe usually found in the backyard or farms," said Roxas City Agriculture Office Chief Salvador Borda.
Borda hinted that the "giant mushroom" is the banana mushroom variety because such type of mushrooms is usually found beneath banana plants. Commonly, banana mushroom belongs to Volvariella volvacea specie.
"The mushroom spores were probably already there," added Borda. "Its growth was aided by the compost materials around its habitat and by the cold and rainy weather in the area".
During a local cable television program presentation, TV host Rexam Laguda said one of the "giant mushrooms" weighed nearly two kilograms and measured almost one foot and 10 inches from the tip of its roots to its cap.
The "giant mushroom" flush with varied sizes has been growing for two years on a vacant lot covered with thick cogon grass and banana plant. The flush crops up on a substrate of moist grasses and leaves.
(PIA/A.Lumaque with reports from Rexam Laguda)