Drilon explains absence in airport inauguration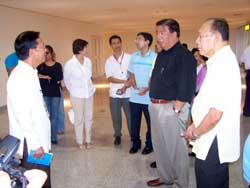 Senator Franklin Drilon (second from right) talks
with Air Transportation Office (ATO) manager Allan
Java at the passenger terminal of the new Iloilo
Airport yesterday. With Senator Drilon is Governor
Niel Tupas Sr.
A. Chris Fernandez Photo
Senator Franklin Drilon yesterday admitted that he intentionally did not attend the inauguration rites for the new Iloilo Airport last June 13 which had Pres. Gloria Macapagal-Arroyo as guest.
"To be candid about it I don't want to put some people in an uncomfortable situation with my presence," Drilon said in a press conference at the Conference Room of the new Iloilo Airport in Cabatuan, Iloilo.
Drilon arrived from Manila around 10 a.m. yesterday on board a Cebu Pacific plane. It was the senator's first time to set foot on the new airport since it started operation, although he had conducted series of inspections on the facility before it officially opened on June 14.
He was welcomed by Governor Niel Tupas Sr. and Air Transportation Office (ATO) manager Allan Java.
Drilon did not mention the names of the persons he was referring to when pressed by the media but he pointed that "there were politicians who objected to the construction of the present airport."
An official of the ATO confirmed that Drilon was invited in the inauguration rites.
President Arroyo in her inaugural speech acknowledged Drilon's contribution to the realization of the state-of-the-art airport.
Considered by Governor Tupas as the chief architect of the new Iloilo Airport, Drilon said he is proud for being able to lead the realization of the project which is "my legacy to the Ilonggos."
He thus called on the ATO to have the new airport "well maintained."
Drilon hopes that with the new airport "we will be able to attract flights direct from overseas."
He said the new airport will spur economic development not only in Iloilo but the rest of Panay.
Drilon's term as senator ends on June 30.
Asked by the media what he will do when he returns to private life on July 1, Drilon said, "I will continue my advocacies for good governance in the national level," adding "I will continue to do my share to help Iloilo even in my private capacity."