Country's 'most beautiful' airport begins operations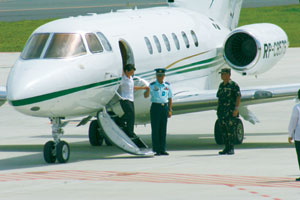 President Gloria Macapagal-Arroyo descends from the
private plane which carried her to the new Iloilo Airport in
Cabatuan, Iloilo. The president's plane was the first to land
on the new airport which she inaugurated yesterday.
Photo by A. Chris Fernandez
President Gloria Macapagal-Arroyo and Sec. Leandro Mendoza of the Department of Transportation and Communication (DoTC) inaugurated the New Iloilo Airport (NIA) yesterday.
"This is the symbol of collective political will and the people's support," Ms. Arroyo said, referring to the Japanese funded, P 6.2 billion-project in the Sta. Barbara and Cabatuan towns.
"The airport of international standards is an example of what is to come for the Filipinos," the President added.
"Your wait is over, now we have the airport," she said, adding that the New Iloilo Airport brings with it progress and economic development.
Arroyo flew in from Metro Manila on board a private jet.
Mendoza said that the NIA is the country's newest and most modern airport. The NIA is a sharp contrast to the old Iloilo Airport in Mandurriao district, which is up for privatization.
Gov. Niel Tupas Sr. said that the airport is a "dream fulfilled," and will serve as Panay island's gateway to the world. The airport, he said, makes the Ilonggos "swell with pride."
Sen. Franklin Drilon, who lobbied for the construction of the airport, was not present during the inauguration of Iloilo's biggest government infrastructure project so far.
It was built by the Taisei-Shimizu Joint Venture, a Japanese firm. Construction on the airport began January 2004.
The 13,700-squate meter, three-storey terminal building can handle 1.2 million passengers and 11,500 tons of cargo every year. The runway can accommodate jumbo jets like the Airbus 330 which carry up to 276 passengers. Up to six aircrafts can park in the 48,200-squate meter apron at one time. The pre-departure area at the third floor can seat 436 persons.
"This is far better than the airports of Cebu and Davao," Mendoza noted.
He said that they are requesting the International Civil Aviation Organization to assess the NIA's compliance with international standards. After the ICAO shall have certified the airport's compliance with international safety and security standards, the NIA would be allowed to handle international flights, particularly those carrying seafoods bound for Hong Kong and Japan. Mendoza is confident that the NIA will pass ICAO assessment.
He said that the airport would most likely handle cargo traffic. Sixty percent of the country's seafood supply comes from Panay island, he noted. Moreover, the NIA is one of the 14 airports in the Visayas identified by the DOTC as 'tourism destination airports.'
President Arroyo said that the DoTC have assigned flights carrying Korean tourists to the NIA.