Goodbye Mandurriao, Hello Cabatuan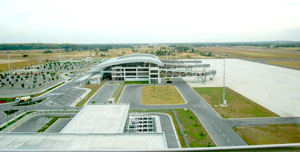 A view of the new Iloilo Airport complex from the control tower.
Photo courtesy of Therese Robles, PSI
Forty-one passengers bound for Manila will be in the last plane out of the old Iloilo Airport in Mandurriao, Iloilo City while it is all-systems go for the new one in Sta. Barbara-Cabatuan, Iloilo. On board Cebu Pacific's Airbus 319, the last plane out will be Flight 146 set to depart 8:45 tonight.
Some nine hours later at 5 a.m. Thursday, the Mandurriao airport will officially be de-commissioned as simultaneous commissioning will also be implemented in Sta. Barbara and Cabatuan airport site.
For Airport Manager Alan Java of the Air Transportation Office (ATO), it means three things -- progress, better opportunities and better transport system for Iloilo in particular and Western Visayas in general.
Both trunkline airports albeit now with international standards in the new one, the multi-billion new airport project has been given the go-signal with Java confident of smooth operations.
Yet it would take at least one month, Java told The News Today (TNT), to achieve "full normalcy" saying certain deficiencies are still being worked out. Pressed for specifics, Java cited public transport system to and from the new airport that has yet to be resolved by the local transport groups particularly taxi cabs allowed in airport premises.
From the airport control tower to the ATO office in Mandurriao, mood was subdued yesterday throughout the premises including food stalls selling souvenirs and Ilonggo delicacies. All 146 personnel of the ATO have already packed office stuffs, marking the last day in office today and all set for new spacious and fully air-conditioned office spaces in the new airport.
Java who has served as airport personnel since 1972 takes particular pride on the project and the transfer saying the region is ready for something big and that aviation in Western Visayas will change tremendously.
"We have state of the art facilities and modern equipment. We will also be adding more personnel," he added.
Java in ensuring a smooth and efficient airport operations called for a two-week security briefing that laid down new security measures. Airport sources also told TNT that proper accounting was made on security passes and access cards issued mostly on government officials.
Over-all implementing agency is the Department of Transportation and Communications (DOTC) through the Project Management Office (PMO) and the ATO.
Marked with allegations of massive graft and corruption, construction cost for the new airport project was placed at P6.2 billion.