Philippine National Police and the Philippine Army have conflicting information with regard to the reported presence of armed men in Barangay Punta Lanot, Carles, Iloilo.
Expect massive government-initiated public awareness forums in one Iloilo town and another in Capiz as intelligence reports tagged these as sources of communist terrorists New People's Army (NPA).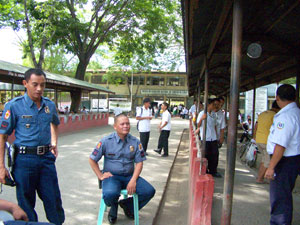 A. Chris Fernandez
Ten months after a massive oil spill struck Guimaras Island, less than a third of the government funds to rehabilitate the affected areas and communities have been released.
Presidential Assistant for Western Visayas Rafael Coscolluela, head of the regional Task Force Solar I Oil Spill, said the release of the bulk of the P863 million fund has been delayed because it was affected by the ban on public spending during the election period.