Guv takes final look of new airport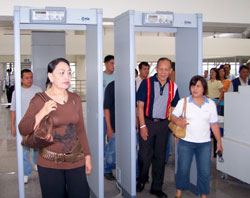 Governor Niel Tupas Sr. checks on the
state-of-the-art facilities inside the passenger
terminal.
Photo by A. Chris Fernandez
Iloilo Governor Niel Tupas Sr. yesterday toured the Capitol beat reporters and personnel from the Provincial Information Office (PIO) to the new Iloilo Airport of international standards in Cabatuan-Sta. Barbara area to take a final look on the airport which will be inaugurated this coming June 13, 2007.
Tupas was accompanied by his wife Myrna, Provincial Administrator Manuel Mejorada and some staff from the Governor's Office.
The P6.187 billion airport equipped with modern facilities is now ready for operation and is only awaiting for the inauguration which will be made by no less than Pres. Gloria Macapagal-Arroyo.
Governor Tupas said the Japanese Ambassador as well as other national officials will also arrive for the inauguration ceremony.
The governor however did not confirm if Ilonggo Senator Franklin Drilon will be present on the occasion. He said the national office of the Department of Transportation and Communication (DOTC) is preparing the program and activities relative to the airport inauguration.
To note, the airport project was a brainchild of Senator Drilon starting from the time of former governor and now third district Rep. Arthur Defensor.
The new Iloilo airport consists of a state-of-the-art facilities which include modern terminal and control tower buildings, instrument landing and navigation systems, among others.
It also has a well-landscaped surrounding.
The new airport sits on a 188 hectare complex within the municipalities of Sta. Barbara and Cabatuan.
It is expected to boost economic development of Western Visayas as it caters to the increasing number of air passenger and cargo traffic in Iloilo province and its neighboring areas.
The implementation of the project was approved by the National Economic and Development Authority (Neda) on March 2000 which subsequently led to the signing August 31, 2000 of the Special Yen Loan Package between the Government of the Philippines and the Japan Bank for International Cooperation (JBIC).
The loan amounted to P5.259 billion while the government had a counterpart of P928 billion.
The project was undertaken for 42 months by the Taisei-Shimizu Joint Venture of Japan.