Proclamation of reelected Governor Niel Tupas Sr. met a snag yesterday as the People's Graftwatch of Iloilo (PGI) filed a Motion For Suspension of Canvassing and/or Proclamation at the height of preparations at the Capitol yesterday afternoon.
Lodged by PGI lawyer Virgilio Sindico, the Motion primarily pushed the anti-graft body's argument relative to the two dismissal orders handed by the Office of the Ombudsman on the governor.
Members of the 8th Sangguniang Panlalawigan (SP) meet today for the 21st regular session marked by the presence (or absence) of two who were reelected for yet another term alongside those who lost their reelection bid.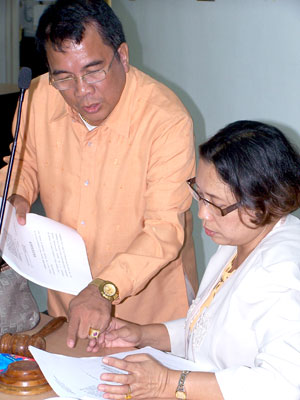 A. Chris Fernandez
City Mayor Jerry Treñas has ordered all the department heads of the city government to start preparing for their transfer to a mall in the next few days.
City offices will be temporarily housed at the third floor of Robinsons Place Iloilo while the existing City Hall will be demolished to give way for the construction of a new one.