The P10,000 offer by Justice Sec. Raul Gonzalez failed to deliver a 12-0 landslide win for the administration's Team Unity.
Regional Director Renato Magbutay of the Commission on Elections (Comelec) expressed his delight on Monday's conduct of the elections in Western Visayas giving the electorates a 'thumbs up.'
Saying the voters did their obligation rather well from the voting process, to the counting and the canvassing, Director Magbutay in a The News Today (TNT) interview yesterday said he was all pleased with the turnout.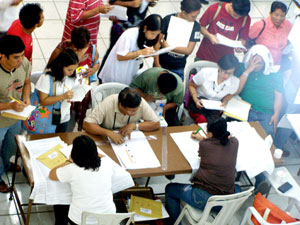 A. Chris Fernandez
Under no circumstance can a disqualification case prevent the canvassing of election returns. And under no circumstance can any member or official of the Board of Canvassers order the suspension in canvassing of election returns unless allowed by the Central Office of the Commission on Elections (Comelec).
Such was yesterday's clarification made by Comelec Regional Director Renato Magbutay amidst the controversial canvassing in the province of Antique.