Police Regional Office (PRO 6) regional director Chief Supt. Wilfredo Dulay Sr. yesterday presented to the media the 223 assorted firearms confiscated by his men all over the region relative to the implementation of election gun ban from January 14 to May 15, 2007.
Virtual sweep for the Garins in the First District. Total victory for the Syjucos in the Second District. Easy win for the Defensors in the Third District. Emerging control for the Birons in the Fourth District. And renewed domination for the Tupases in the Fifth District.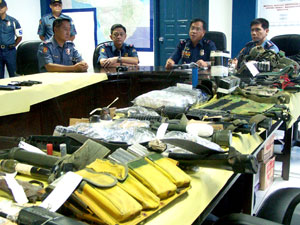 A. Chris Fernandez
Parents and students will carry another heavy burden on their pocket as 30 colleges and universities in Western Visayas have applied for a tuition fee increase in this coming school year. Five of the applicant schools come from Iloilo City.
Records from the Commission on Higher Education (CHEd) identified the five schools from Iloilo City as Central Philippine University, Iloilo Doctors College, Saint Paul Iloilo University, John B. Lacson Maritime University and Western Institute of Technology.