Tension rose at the Iloilo Airport in Mandurriao district yesterday after court sheriffs accompanied by a demolition team implemented a court order to dismantle disputed properties of businessman and newspaper publisher Bernie Miaque.
Army Captain Lowen Gil Marquez of the 3rd Civil Relations Group is undaunted with the reactions of militant groups that condemned the Army's stern campaign against harassment, extortion and destabilization acts linked with the Communist Party of the Philippines, New People's Army and the National Democratic Front (CPP-NPA-NDF).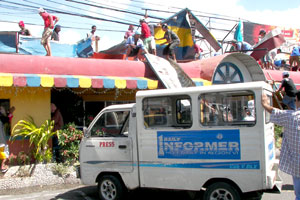 A. Chris Fernandez
Two security guards of the Big Lens Security Agency owned by businessman Bernie Miaque were arrested yesterday after they pointed their guns to the members of the demolition team. They are now detained at the lock-up cell of the Mandurriao police station.
The two blue guards were identified as Arlan Ruego, chief security of Miaque, and Renante Colonia. Police seized Ruego's .45 caliber pistol and Colonia's shotgun.
Police are still checking the authenticity of the Commission on Elections (Comelec) gun ban exemption presented by Ruego. The exemption was signed by Comelec Commissioner Nicodemo Ferrer.