Catholic Bishops Conference of the Philippines President (CBCP) and Jaro Archbishop Angel Lagdameo said the condition of workers should be one of the concerns addressed to the candidates running for positions in all levels of government during the campaign period.
As early as February of this year, Metro Iloilo Water District (MIWD) already knew of imminent water shortage for its thousands of consumers. However, the problem was only made public when it implemented the water rationing late last March.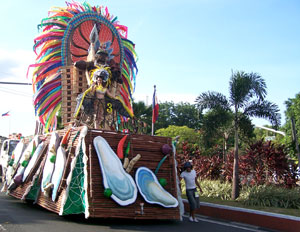 A. Almacen
Iloilo's Dinagyang Festival again failed to regain the crown in the recently concluded Aliwan Fiesta in Manila. Cebu's Sinulog Festival retained the title it also won last year.
Dinagyang Festival represented by Tribu Ilonganon only landed second runner-up. They received P500,000 cash prize. The third runner up was Alikaraw Festival of Hilongos, Leyte. They received P250,000. Tribu Sinulog received the P1 million cash prize being the overall winner.