The Regional Trial Court finally issued an arrest warrant against brothers Archie and Jan Michael Tan for the killing of their father, stepmother and half-sister last year.
Congressional candidate Vicente "Benjie" Gengos has called on the Commission on Elections (Comelec) to investigate the reported open declaration made by Justice Secretary Raul Gonzalez Sr. that he will give barangay captains a "bonus" if they will deliver a sweep for administration senatorial candidates in their barangay this May 14 elections.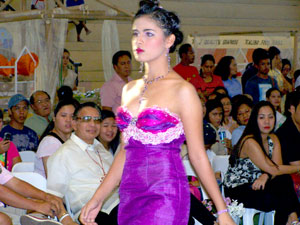 Ronilo L. Pamonag
Textile made of plant fiber grown and produced in Aklan is gaining ground in foreign markets as dealers and importers are interested in buying these products.
Several textile importers are in town for the 8th Aklan Piña and Fiber Festival and for a plant tour of the various loom weavers in the province. The five-day festival, which is held at the Capitol grounds, opened Monday afternoon.