Some 128,000 residents of Iloilo City who solely depend on the Metro Iloilo Water District (MIWD) for their source of water will have to bear limited supply of water until the rainy season comes.
Members of left wing groups entered a military camp in Antique province yesterday to search for their two abducted members. Bagong Alyansang Makabayan (Bayan)-Panay spokesperson, Aurelio "Boy" Bosque led several other activists in going around the camp of 79th Infantry Batallion in San Jose town in Antique yesterday morning.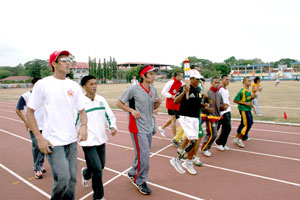 A. Chris Fernandez
The families of two missing leaders of militant organizations and their colleagues have maintained that only military agents have the motive and the means to undertake the attack and abduction.
They yesterday visited the headquarters of the Army's 79th Infantry Battalion in Antique and the 12th Infantry Battalion in Miag-ao town in Iloilo to look for Ma. Luisa Posa-Dominado and Nilo Arado.