Trans Panay Express replaces Panay Railways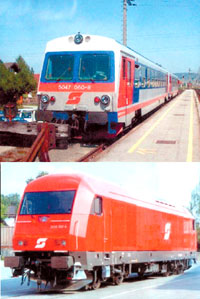 The proposed Iloilo-Sta. Barbara APT and
the Iloilo-Roxas City Trans Panay
Express.
Trans Panay Express (TPE) will soon roll off fast and comfortable air-conditioned trains that will connect and bring closer two provinces, three cities and 11 municipalities.
This was disclosed by retired Col. Hannibal S. Lipardo, General Manager of TPE (formerly Panay Railways) last week in an interview with this writer.
The fully air-conditioned coaches will run a maximum speed of 140 kilometers per hour and with 450 passenger capacity. There will be 13 stations (stops) from Iloilo to Roxas City.
The width of the two-way tracks (with a small concrete island in the middle) will be 30 meters and the length of the alignment is 122 kilometers with a travel time of 70 minutes between the two cities.
Headway between trips is 30 minutes and the coaches will be powered by diesel electric locomotive with 2,700 horse power (hp).
The Iloilo-Sta. Barbara coach will have only 114 passenger capacity. The passenger coaches will be beefed-up with an overnight cargo transit.
Meanwhile, relocation sites for informal settlers that will be affected by the expansion project have already been identified. Informal settlers numbering 5,000 and with a population of 298,593 (based on the survey conducted two years ago) are those houses which are occupying portions of the railway tracks and are paying monthly rental fee to TPE. There are also a number of squatters.
The affected residents will be relocated in the same town or city where they are residents and will be provided with a low-cost housing facilities. TPE however is still scouting for the relocation of the Iloilo City informal settlers.
The route of the 122-kilometer project for Iloilo province are: Iloilo City, Pavia, Sta. Barbara, New Lucena, Pototan, Dingle, and Passi City. For Capiz province: Dumarao, Dumalag, Cuartero, Dao, Panitan and Roxas City.
A China conglomerate construction firm will undertake the project under Build Operate Transfer (BOT) scheme. The Philippine government will assume the right-of-way but the rest of logistical requirements will be assumed by the contractor.
The National Economic Development Authority (NEDA) is reviewing the China proposal for immediate implementation of the project.
TPE project was strongly proposed by President Gloria Macapagal Arroyo during her latest State of the Nation Address and has vowed to deliver such commitment.