The Amigo Terrace Hotel is all set for Valentine's Day with its wide range of romantic dining options to choose from.
The Islands Restaurant- located at the ground floor, offer guests a choice of "CROSS MY HEART" the most hearty merienda buffet ever, Chicken Gallantina, Valenciana, Dinuguan with puto, Tuna Sandwich, Halo-halo Bar, a Crepe Station and a lot more for only P160. nett per person from 2pm- 6pm.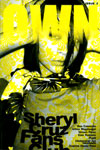 "OWN", a fashion, art & pop culture journal cum magazine, was recently launched at the Jaki Peñalosa Shop at Robinsons Place Iloilo. A mix of society fixtures, art movers, fashion renegades, media people and business types gathered and had cocktails courtesy of Miguel Cordova of Afrique's. Another table also featured foodstuff from Ditas Taleon, Marichel Magalona, Ivan Monte, Maricon Syching, Christine Villanueva, Erwin Chiongson , Angelette Ragus, Jaki Peñalosa, Stella Salcedo, Michelle Aguadera, Cecil Gison and many more.