Organizer mulls reduction of competing tribes in Dinagyang '07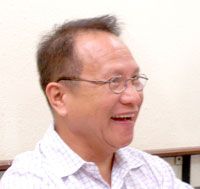 Jimena
Five competing tribes in the upcoming Dinagyang Festival are in danger of losing the chance to join the contest after the Iloilo Dinagyang Foundation Inc. (IDFI) wants to eliminate the low-ranking tribes based on their performances in 2006 and in previous years.
IDFI executive director Ben Jimena said they are contemplating of taking out five tribes from the original 20 competing tribes.
Currently, the 20 competing tribes are, Angola, Bantu, Dagyaw-Ta, San Pedro, Panaad, Hamili, Bariohanon, Atub-atub, Silak, Molave, Familia Sagrada, Aninipay, Paghidaet, Kalubihan, Parianon, Ilonganon, Himala, Tribu Taga Jaro, Pag-asa and Halimaw.
As of this writing, the IDFI and Association of Tribes in Iloilo (ATI) headed by Carlos Ebro are still in conference regarding the proposal to eliminate five tribes. It was not immediately known how the tribes will take the proposal of the IDFI.
Jimena said the foundation wants to address all the financial needs of each tribes. With only 15 competing tribes, the foundation can attend to all their financial needs. The tribes can even present better concepts of the celebration.
At present, the foundation is still waiting for the sponsorships coming from telecom firms Smart and Globe. Smart pledged to give P2 million and Globe also pledged P2 million. The telecommunications companies are expected to give their pledges next week.
He added 15 tribes are more than enough to portray the celebration. There are tribes that complained on insufficient budget, lack of warriors, dancers and drummers. The tribes were already given an P80,000 subsidy.
The tribes eliminated from the list of competing tribes will only be allowed to join in the fluvial procession and not during the competition proper. The subsidy will not be taken back from them. No special awards will also be given to the eliminated tribes, said Jimena.