Bigger 'Sinadya sa Halaran' fest in 2006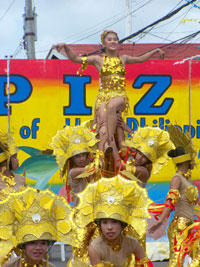 Sinadya sa Halaran performs in the
Parade of Festival of the recently
concluded Western Visayas Tourism
Assembly.
Roxas City -- The Provincial Government of Capiz and City Government of Roxas will once again showcase the distinct culture and way of life, products, festivals and deep devotion to the Blessed Virgin Mary of the Capiceños during Capiz's premier festival Sinadya sa Halaran on Dec. 5-10, 2006.
Provincial Tourism Officer Alfonso Bediones, Jr. said the province and city have started working out the activities for this year's celebration. His counterpart, City Tourism Officer Rodolfo Maestro, Jr. said this could be one of the biggest and most memorable festivals ever.
As in the past, a series of novena masses will usher in this year's celebration as a tribute to the feast of the Our Lady of the Immaculate Conception on Dec. 8 in whose honor the city fiesta is marked every Dec. 8.
A number of new activities will be added to the usual festival fare including the "Jambol 2006" barangay basketball tournament, shooting competition, motorcycle show, Capiz hymn chorale contest, banca tug-of-war, civic parade, and barangay night.
Several development projects implemented by the province and city will be inaugurated during the festival as one of its highlights. The office of Congressman Rodriguez Dadivas of the First District of Capiz said project funded under the congressman's Priority Development Assistance Fund (PDAF) will also be inaugurated.
Gov. Vicente Bermejo will also turn over a multi-purpose hall provided by the provincial government to the Gawad Kalinga project at Barangay Milibili, this city.
Local festivals will be showcased at the parade of festivals which will be staged separately from the civic parade.
City mayor Antonio Del Rosario said city barangay officials will have an opportunity to gather and earn due recognition during the Barangay Night on Dec. 9. The city will also invite more prominent showbiz personalities from Metro Manila to share their talents with Capiceños during the occasion.
The province through the Office of the Provincial Agriculturist will solicit greater participation from the private sector in the Capiz Trade Fair which will run throughout the celebration. The fair will showcase Capiz's major seafood, agricultural, and small and medium enterprise products.Agricultural production was strong in the first half of this year and industry performed better than expected, according to Malacañang as it again underscored the accelerating run of the economy on the back of economic, fiscal and other policy reforms initiated by President Gloria Macapagal Arroyo to spur national progress.Malacañang issued the statement as the country welcomed back this week President Arroyo from her successful trip to China.
Capiceños and visitors alike will witness and enjoy the usual spectacles and treat offered by the festival plus the new activities put up by organizers to make this year's Sinadya sa Halaran bigger and truly memorable, said Bediones.
The theme of the festival, which is also supported by the local Church, is "Kon May Paghangpanay, May Kasulhay."
(PIA-JSC)