WV Fiesta Truck launching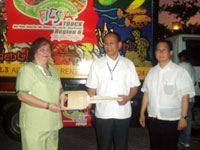 Segovia turns over the symbolic key to
Trompeta. TBPI Artistshop Managing
Director Tito Alcala looks on.
The Western Visayas Tourism Office in cooperation with the TBPI/Artistshop through its local area partner, Ms. Marissa Segovia formally launched the first ever WV Fiesta Truck last October 25, 2006 at the Sarabia Manor Hotel, here in Iloilo City coinciding with the holding of the Western Visayas Tourism Assembly.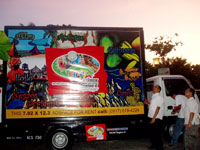 The unveiling of the WV Fiesta Truck.
The unveiling of the said truck was witnessed by Mr. Ben Jimena, who came in behalf of Iloilo City Mayor Jerry Treñas; WV Tourism Director Edwin Trompeta; and TBPI/Artistshop Managing Director Tito Lorete Alcala. On the other hand, Rev. Fr. Antonio Reyes officiated the blessing rites.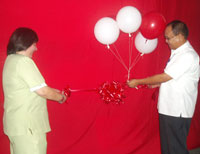 Segovia and Dir. Trompeta lead the
ribbon cuting.
The Western Visayas Fiesta Truck is equipped with a state-of-the-art theater-like features like a 6.92 x 11.92 feet high-resolution screen and six clear speaker systems. It aims to further promote local tourism as well as to add fun and excitement to the different festivals and fiestas in Aklan, Antique, Bacolod City, Capiz, Guimaras, Iloilo and Negros Occidental.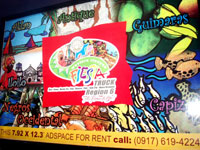 The WV Visayas Fiesta Truck project was well-supported by Pepsi-Cola Phils. Inc, as represented by Mr. Lyndon Cuadra; Tibiao Bakery's Ronald Lim; JD Bakeshop's Emil Diez; Food Land Inc. and Mister Donut through Mr. Benjo Gepana; and Miss Tweety dela Calzada of San Miguel Corporation/CKAG.
The new Fiesta Truck was made possible by the massive efforts exerted by the private sectors and LGUs to make Western Visayas the next tourist-magnet of the country. It is a remarkable testimony that indeed great things can happen under the spirit of unity.