Workers set up barricade in Boracay resort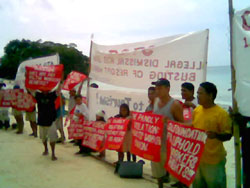 Club Panoly's retrenched workers and their
families stage a picket in front of the resort.
As planned and promised, disgruntled and retrenched workers of a "high-end" beach resort in Boracay Island picketed the Aklan Jetty Port in Caticlan, Malay Aklan and set-up a barricade in the resort's beachfront entrance.
Bearing placards denouncing alleged exploitation, discrimination and unfair labor practice, the protesters were union members of the Club Panoly Resort Employees Union (CPREU) and sympathizers from nearby resorts.
In the jetty port, arriving locals and weekend guests were "welcomed" by some sixty protesters who handed out not the Boracay Visitor's Guide but flyers that spoke of the group's fate. The picket was watched closely by port security yet managed to end peacefully until the group left some two hours thereafter and joined the others in the beachfront barricade in Boracay Island.
CPREU president, Danny Rapiz led the protesters. In an interview, Rapiz told The News Today (TNT) that in the first hour of the barricade, a group of six international tourists stopped by and when told of the protest, heeded the group's request for a "Club Panoly boycott."
"Boracay is an island-paradise yet our real state of labor is like living in hell, the workers exploited and sacrificed for business and profit. Yet the time has come to end that exploitation," Rapiz said. The CPREU members, all regular workers till the questioned retrenchment, have a standing P9 million in money claims to Club Panoly management.
"The day of upholding labor rights in the island paradise has dawned.And the workers are now standing up in the struggle to preserve not just tourism but their livelihood and economic security. And we, the workers of The Panoly and members of CPREU will not take this struggle sitting down." the Union in an earlier statement said. "The Panoly has denied us our right to proper wages.The Panoly didn't bother giving the privileges due to resort workers.The Panoly violated almost, if not all, the labor standards stipulated in the Philippine Labor Code and the Constitution."
"We also formed ourselves into a workers union to collectively defend our basic labor rights and collectively bargain for the strengthening of our political rights and the improvement of our economic position. In response to this, The Panoly management questioned the legitimacy of our union.The money that is supposed to be paid to us was used by the management to pay top caliber lawyers to deny us immediate payment of our claims. And worse, the management dismissed all 63 union members in order to bust the newly formed union on the basis of serious financial losses while immediately replacing us with contractual employees," the statement continued.