Syjuco hits back at accuser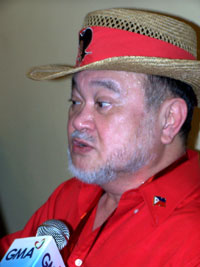 Secretary Augusto "Boboy" Syjuco
Secretary Augusto "Boboy" Syjuco, Director General of the Technical Education and Skills Development Authority (Tesda) hit back at his accuser, veteran Tesda employee Annie Geron following graft raps filed before the Presidential Anti-Graft Commission (PAGC).
Saying the charges were unfounded, Syjuco in an interview denied to The News Today (TNT) any wrongdoing in the P9.1 million Tesda book deal, "Salabat for the Filipino Soul Book 2."
There is TESDA's Bids and Awards Committee (BAC), Syjuco pointed out, while adding that he has nothing to do with the BAC process. And Geron is a "polluted source," he continued saying further how his accuser lacks credibility and is only out to seek revenge for a union matter.
The group of Geron belongs to SAMAKA-TESDA however what TESDA reportedly recognizes is yet another union that is affiliated with the Trade Union Congress of the Philippines (TUCP).
"She belongs to a minority union, a wildcat union so she is getting me involved in her fight when I have nothing to do with it. It is also apparent to me that she has become a creature of Boy Mejorada," Syjuco continued.
Mejorada is the Iloilo provincial administrator and is the number one critic of Syjuco.
Geron in an interview over Bombo Radyo made comments on a cellphone issue that haunted the Tesda secretary and wife, Second District Congresswoman Judy.
"She (Geron) was not able to get the attention that she wants from me so she is doing this. She has become a one-woman-wrecker in partnership with Mejorada as one-man-wrecker. What a pair, the penguin and the catwoman. Yet at the end of the day, the bottomline here is I will prove that the nation is happy of my leadership in Tesda. The Second District is happy of how we have brought progress and development there."