Dr. Hugh Thom: 72 years of unconditional service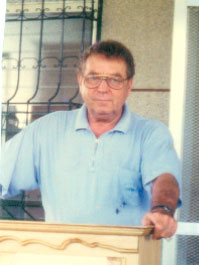 Dr. Hugh Thom
Some people are born to rule, some are meant to become achievers but Dr. Hugh Thom chose to serve the less fortunate.
Dr. Hugh Thom was born in Chicago, Illinois last June 14, 1934. He was the youngest of seven siblings. During his heydays, young Hugh served his country as a US Marine and garnered several decorations, medals, badges and commendations for his exemplary performance during his time of service. Among them were the Korean Service Medal, the United Nations Service Medal, the National Defense Service Medal, and Good Conduct Medal.
Though young Hugh considers Quantum Physics as his first love, he enrolled at the University of Southern California to become a doctor of medicine. He further earned his specialization as a Pedia Surgeon at the University of California, Los Angeles (UCLA).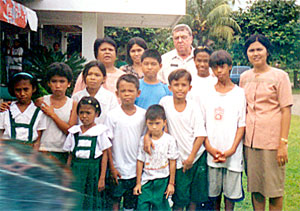 Dr. Thom (4th from right) with the students of Bay-bay
SPED Central District in Leyte
Having a soft-spot for the needy, Dr. Thom left his country to begin his humanitarian works here in the Philippines with supports coming from different organizations like MD 105 Lions District UK, Newquay Lions Club, MD 105 AZ Netherlands, MD 106 Denmark, Edmonton Lions Canada, Australia Lions Club, Kansas Lions Club and Virginia Lions Club.
Here in the Philippines, Dr. Thom found not only his purpose in life but also a huge part of it – Ofelia. It was a Black Saturday of 1990 when Dr. Thom met a lovely lady from Cuyo Island, Palawan. Captivated by the white and sandy beaches of the island and by the then Provincial Treasurer Officer Ofelia Daquer, Dr. Hugh Thom found more reasons to stay in the country and continue his mission. Six months after, he and Ofelia tied the knot in Palawan.
"He was a very selfless man. Yung isusubo na ibibigay pa sa iba. We never owned a house nor a car. He would often reason out that putting up a house or buying a car would cost us a lot of money. He said that we can use the money for our travels," narrates the teary-eyed Ofelia. "The Medical Missions were very rewarding. Seeing the smiles in the faces of hundreds of people was so fulfilling," she continued. Though most of their missions were aided by foreign organizations, Dr. and Mrs. Thom would often use their own finances going from one place to another.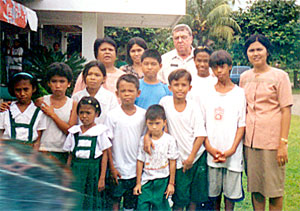 Dr. Thom (sitting) with Dr. Fleurdeliz Mascuncina, Division
Superintendent of School SCC and Larry Rigor of SPED Class
Since their Medical Mission here in Iloilo, sponsored by the Michigan-based Childing Foundation, the couple has adopted Iloilo as their hometown. Dr. Hugh and Ofelia practically toured the country from north to south helping people of different ages, particularly those with hearing impairment. They have worked with the Holy Trinity College Sisters in Palawan to help the abused children. They have been to different district hospitals in Davao, General Santos, Mati in Davao Oriental, Digos, Candon, La Union, Hinobaan, Antique and Iloilo. They have conducted hearing missions with the Welcome Home Foundation with different SPED schools in Bacolod. In Manila, the couple teamed up with First Gentleman Mike Arroyo and Makati Central Rotary Club to help the students of Philippine School for the Deaf.
On December 7, 2004, Dr. Thom and his team together with the Rotary Club of Pasay MIA gave out musical instruments for the handicap to the Philippine School for the Deaf and Blind. Two days after, Dr. Thom and his team flew back to Iloilo to donate computers, sewing machines and typewriters to Janiuay Pilot School with the aid coming from Prinses Marianne Voorburg Lions Club Dist. 110 AZ Netherlands. Likewise, Dr. Thom, with the help of Metro Iloilo lions Club, handed sets of wheelchairs, crutches and walkers to the Our Lady of Mercy Hospital. On December 9, 2004, he turned over computers, sewing machines and typewriters to the key officers of Janiuay Jibolo Elementary School. A day after, he was off to Bacolod to grant 23 wheelchairs, typewriters, sewing machines and a piano to Our Lady of Mercy Hospital.
Among his recent act of mercy was a series of Medical Missions with the Pacific Rim Group in District Hospitals in Batangas and a self-financed Medical Mission in Pampanga. It was after his last visit to Laguna last August 21-26, where he and Governor Teresita Lazaro conducted Medical Mission in seven municipal hospitals, that he complained of labored breathing. He was immediately brought to a hospital in Laguna.
Ofelia brought Dr. Thom home to Iloilo upon his request on September 3. They stayed in their rented house in San Antonio, Molo. Last September 18, he was rushed to Iloilo Doctors' Hospital and stayed there until he joined his Creator on September 25, 2006 secondary to cardiac arrest.
"People said that I have suffered a lot because he was bed-ridden but he is all worth it. He was a very humble and helpful man. He does not even want his name printed on banners. He wants to help people as discreet as possible," claims Mrs. Thom.
The remains of Dr. Hugh Thom lies at St. Therese Memorial Chapel. Interment will be on October 4, 2006 at 2:00 pm at the Holy Garden Oton Memorial Park after a requiem mass at the St. Anne Parish in Molo.
Dr. Hugh Thom's well-spent life may have come to its end but his great and unselfish acts will forever be cherished by the people whose lives he touched. His memory will eternally be pierced into the hearts of the many.