Mang Inasal Philippines opens its 18th branch at SM Mall of Asia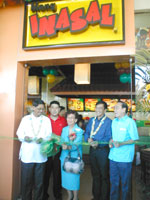 L-R: DOT Undersecretary Oscar
Palabyab, Mang Inasal's Edgar
"Injap" Sia, United Print Media
Group Officer Pat Pineda and
Roxas City Mayor Tony del
Rosario.
Mang Inasal Philippines, a family-owned company which traces back its humble beginnings here in Iloilo, is undeniably one of the fastest-growing food companies in the country. In less than three years after its birth, Mang Inasal has proven its prowess in the fast food industry. Despite of the stiff competition with internationally-acclaimed names in the business, Mang Inasal struggled and fought the saga of excellence. Equipped with great-tasting Filipino favorites and pocket-friendly prices, Mang Inasal knows that in the end it will win the heart of the masses. It has indeed!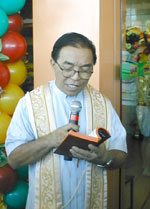 Father Reynaldo Cruz
officiated the blessing rites.
The company's dream of invading the Metro Manila area was realized last September 15, 2006 as Mang Inasal- SM Mall of Asia (MOA) opened simultaneously with Mang Inasal-Bicutan, the 18th and 19th branch respectively. Located near the entrance, Mang Inasal-MOA both have the al fresco and the air-conditioned dining areas. The interiors are similar with that of the Mang Inasal branches here in Iloilo.
The event was well-attended by high-ranking officials and distinguished guests as well as media personalities from Manila, Iloilo and Mindanao.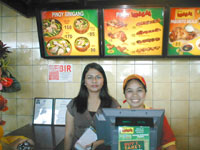 Even before the opening ceremony commenced, Manileños started queuing for the most-coveted Mang Inasal Paboritos. Truly, there's no stopping Mang Inasal from making it big!
A huge slice of its phenomenal success was contributed by their original Visayan-style barbecue, in which the company is quite known.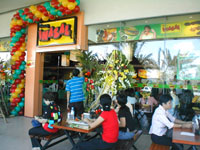 Today, Mang Inasal Philippines stands above all its local counterparts in sharing the goodness of real Pinoy barbecue in three major regions of the country with its 19 branches.
Now, Luzon, Visayas and Mindanao can attest that Mang Inasal is undoubtedly "KUMBINSING"!