3 award-winning Ilonggo artists top bill Sojourn 2 Art Exhibit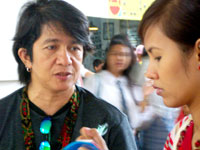 "Boyet" Zoluaga being interviewed by
the writer.
A free man art exhibit featuring three of the prominent and award-winning Ilonggo artists and painters, Joel Ferraris, Chris Villanueva and Boyet Zoluaga opened at the 3rd level of Robinsons Place Iloilo last Friday, July 28.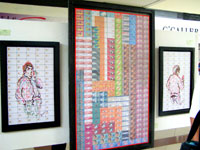 Dubbed as Sojourn 2 Art Exhibit the activity, which is part of the 30th year anniversary of the Scintilla Juris Fraternity (SJF), is made possible in association with the Graphic Art Gallery.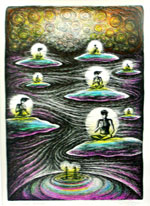 The event opened with the welcome remarks by Atty. Robert Pavion and the cutting of ribbon by an alumni brother and past President of the Alumni Board of SJF, Atty. Joey Villamor. It is the second exhibit by the brotherhood; the first was Sojourn 1 held way back in the 1980s at the University of the Philippines in the Visayas.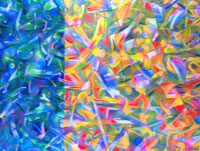 The Scintilla Juris Fraternity is a society of lawyers as fore-runner and safeguards of justice and equality in the country.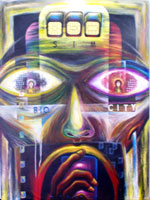 Chris Villanueva's works are acrylic creations on a camouflage. He is a minimalist artist, now based in Manila, whose merits and recognitions include a Philip Morris Art Competition Award and a winner of the National Arts Competition, to name a few.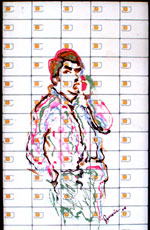 The art piece titled "The Howling Winds of Homesickness", a phone card montage, along with other pieces subjected on technology and communication advancements in mixed media, is by Joel Ferraris, one of the Ilonggo artists recognized both in Manila and in Hong Kong which he is now based with his family. He delivered the artworks himself a day before the exhibit opened. He is a winner of the Metro Bank Art Competition in Manila.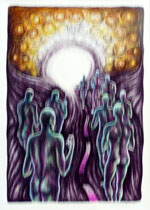 Guests, visitors and art enthusiasts were captured by the bright and enchanting images of a bulalakaw, done by painter, artist, political activist, environmentalist and musician PG "Boyet" Zoluaga. A bulalakaw is a mythical fire bird in the island of Panay, during the tribal times. It was a symbol that he adopted since it is the best epitome of protection of the people and the environment. "My works are not to be considered as beautiful paintings. I am often aroused by subjects of social realisms -- poverty, corruption, discontent in the government and political hullabaloos. They don't tend to be pretty when they come out, but it is a voice that unites with those who have the same sentiments as mine."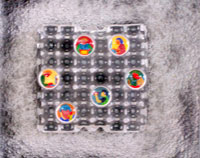 He is a realist who fuses with the surreal and abstraction and an active member of various art and musicians organizations in the city. Few of his distinctions in arts include, Philippine Art Awards Juror's Choice Winner in 1998 and Centennial Painting Competition Award.
Sojourn 2 Art Exhibit welcomes interested viewers for a month. Witness for yourself the untapped skills of our fellow Ilonggo painters and artists in their finest masterpieces.