Int'l group cites Aklanon volunteer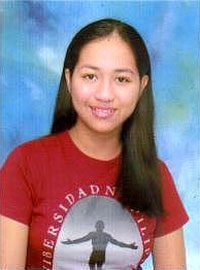 MARANATHA ESTRADA
A 17 year-old lass from Aklan was officially named as the top finalist for the prestigious annual Violet Richardson Award for volunteer action of the Soroptimist International. She received her award on July 23 in Philadelphia, USA.
Maranatha Estrada, of Barangay Cayangwan, Makato, Aklan said that she was fortunate to receive the top award in the international level. She was the first Filipina teener to be given of such award.
"I was recognized because of my volunteer works in the campaign for reproductive health in my community and that the screening committee recognized the apparent lack of concern being brought for the reproductive health concerns in the Philippines," said Estrada.
In her six pages essay titled as "Catalysts of Change through Volunteerism", Estrada highlights her experiences as volunteer for reproductive health campaign in the community being the president of the Cayangwan-Aglucay Reproductive Health Organization (CARHO) -- a volunteer youth group awarded by the United Nations Fund for Population Advocacies (UNFPA).
Because of the success of the organization, representatives from the UNFPA-New York, cabinet officials from Nepal visited the town of Makato recently to study the experience of the young teeners that are actively involved in reproductive health advocacy.
The essay forms part of the screening committee's criterion in order to determine the experiences of the nominee.
"I volunteered to join the organization because there is a prevalent problems of alcohol and alcoholic addiction in the community," Estrada a second year nursing student at the Western Visayas State University in Iloilo City told this writer Wednesday.
During her high school years, Estrada also received numerous award from the Science Development High School in Kalibo and among those were Outstanding Campus Journalist of the Philippines; Chief Girl Scout of the Philippines Medalist; President Gloria Macapagal-Arroyo award for Outstanding Achievement in Journalism and President Gloria Macapagal-Arroyo Awardof Outstanding Leadership.
Dr. Rane Tabanar, the CARHO Adviser and the municipal health officer of Makato said that they are proud to the achievements of Estrada as it would certainly placed their town Makato in the international map of awardees.
Dra. Lyn Salido, incoming president of the Soroptimist-Kalibo said that Estrada was nominated because of her volunteer service through reproductive health advocacy through the category of assisting women and children who are victims of domestic violence.
Salido said that with the creation of the CARHO led by Estrada, more people from their community have started going out to the health center and availing the services, also with victims of rape and sexual harassment.
Because of Estrada's feat, she had chosen the CARHO to be the beneficiary of the $2,500 to be given by the Richardson Award.