The miracle in Lindogon
Knowing what I know now, I have reason to celebrate. And believe.

This is one article I never thought I'd make. No. I take it back – this is the article people around me thought I'd never make. With 17 years of this lifetime spent thus far dedicated to news work, I thought, it is fair to consider I am doing enough to make me a better person and this world a better place to live in.
But God is good as we hear in praise-songs. So good beyond the praise-songs that tested and proven I think I may be, He made me realize it is never too late to reconnect and embrace your faith.
How many amongst us have had a life-changing moment? Factors would usually range from unexpected blessings, sudden wealth, devastating tragedy, a new job, a lost love, broken dreams, delivered promises. Human as we are, the field for that epiphany is so vast yet real in a surreal sense.
Here lies one manifestation of that one chance. And I call it "The miracle in Lindogon." My miracle in that far-flung hilly area, over two hours in land travel from Cebu City.
The place is called Upper Lindogon, Simala, Sibonga, Cebu. Home to the Monastery of the Holy Eucharist, Marian Monks of the Eucharistic Adoration or Monghe ni Sta. Maria. For someone who lacks faith, the name of the place is undoubtedly too much to comprehend. Strong words , I would even say. But again, God is good and He took care of that in the afternoon of September 8, the birthday of the Blessed Virgin Mary.
This writer along with 6 others went on a Marian pilgrimage. In what I believe now was designed for me as my significant "heaven-moment," the trip day before September 8 was laden with its share of obstacles. Because my day is marked by work, I was to leave on one where I have a double-deadline to accomplish for the two papers I work for. I was determined to go thinking I needed the break and so I can use some more work-related stress for after all, I am having a break. It wasn't a "pilgrimage" yet to me. My overnight stuff including the two stuffed bears I always bring (so I wouldn't forget I have children – my son's idea) has since been packed. Boat was to leave 6 p.m. By 3 p.m., I suddenly had to work on a new assignment due in 2 hours. I was determined to go but this one cannot wait either. God is good. I finished in less than two hours and made it with considerable time for my departure.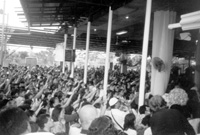 And as if God wanted to reward me, the trip was exceptionally peaceful and the sea so calm. Fast forward to Lindogon the next day, we safely got into what was once a rugged terrain transformed into a modest church, unfinished yet with a beautiful altar and serene surrounding. Holy . That is the more appropriate word. By the time we got there for the 3 p.m. mass, at least 5,000 people filled the hill yet there seemed to be a place for everybody. Truly, it was like we were there for a celebration. Mood was festive yet somber. I wasn't prepared for that but nothing would prepare me more when at the end of the two-hour mass where the image of the Virgin Mary was carried for the procession, people around me waved emotionally at the image. Men, women, teenage boys wept as soldiers in uniform stood guard hugging their high-powered firearms as if knowing it has no place there.
I was stunned. I was moved, yes, but more confused of what I am seeing. Why are they crying? I got my answer from a stranger who simply bowed his head when the image passed by us. They cry because they feel for the Virgin Mary whose only Son chose to die for the world. And they cry because they are overwhelmed of her presence. Tears of joy. Literally.
Lindogon has gathered the Marian devotees with the Sacred Statue of the Blessed Mother said to have shed tears first in August 17, 1998. It was then followed five days later and then on her birthday, September 8, 1998. More tears again in October 13, 1998, the anniversary of Our Lady of Fatima's apparition then in December 29, 1998 and lastly thus far in September 8, 1999, again on her birthday.
The Marian tears were described by locals as oil-like reason why small plastic bottles of holy oil form part of an important 'memento' of one's Lindogon visit.
The procession thereafter lasted for about 4 hours. I spent just about the same time lining up so I can have the white mantle placed on me and that few minutes of private prayer. There is so much to be thankful for that I wouldn't have had the chance to do elsewhere. A successful gall bladder operation. Wonderful, healthy children. Great family kept safe and intact. Special friends. Continued blessings. I just kept on praying for everybody I know until I was sure I have made special mention of them all. Then I began praying for those I do not know, people who are hurting, and those I have hurt and those who have not had the chance to thank God, thank Virgin Mary, all of them in heaven. That was my miracle – the time to reflect and be grateful of life and living.
The same miracle in my new friend, Nita Alcantara, cancer survivor. I still have to meet her but we spoke over the phone. I got her number from a letter she wrote the monastery thanking Virgin Mary for the miracle of life. She came to Lindogon dejected, scared and very sick because of breast cancer. She said she was not ready to die and say goodbye to her 3 children and her husband. She needed answers as to why of all women God chose her. Her letter caught my attention and provided welcome respite from the over an hour of standing in line. It was posted on the wall as part of the testimonies of the Virgin Mary's miraculous intercession. She wrote exact thoughts that have been running in my mind. If I have to die because I will die, I want to know when. And she wrote it all in that letter when she said her Lindogon visit made her realize through Virgin Mary that God loves her more. The cancer gave her time to prepare. I want that. Not the cancer but time to prepare. She had to be carried up the hill in 2003 because she was so sick that a single move literally takes her breath. Chemotherapy has not only taken much of her hair but all her nails as well and her will to live. Lindogon and the Blessed Virgin Mary changed all that. Hours after being aided by a monk, she came down the hill on her own and a renewed person, cancer-stricken but not grief-stricken.
At the start of this article, I decided to text the number she wrote in that letter. I apologized for intruding but explained that I got it when I visited Lindogon and that I wanted to know how she is doing. I also thanked her for sharing her miracle to me.
Within seconds, she called me. Within seconds, I got me a new friend. We promised to get in touch. I intend to keep the promise. She is now cancer-free.
I came to Lindogon as a reporter. I came out of it a "thankful person" realizing I am really not only a reporter.
Knowing what I know now, I have reason to celebrate. And believe.