Bangko Buena welcomes Culasi Branch
The Banko Buena, Inc. Board of Director and Senior Officers
Bangko Buena, Inc. (A Rural Bank) formerly known as Bangko Buenavista Guimaras, Inc. was established way back in 1971 under the corporate name, Rural Bank of Buenavista Guimaras, Inc. The bank, situated at McLain, Buenavista, Guimaras, was inaugurated on November 3, 1971. Its initial capital was P111,000.00 common stock and the same amount of preferred shares. However, when the economy tightened in the subsequent years, the original owners sold the bank to the present owners, the Rubin Group.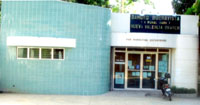 Nueva Valencia Branch

The owners took over the control, management and operation of the ailing Rural Bank of Buenavista Guimaras, Inc. on July 23, 1982 which has a paid-up capital of P 206,800.00 with resources of a little over P 1 million pesos and deposits of P0.5 million. Past due obligation with the Central Bank is more than P 0.7 million brought about by the supervised credit (M-99, etc.) fiasco. Loans to borrowers has past due ratio of more than 50%. From this comatose state, the rural bank tried to recover and inched to the bright sunshine of the late 80's, to the blue horizon of the 90's and to a sparkling diamond in the new millennium.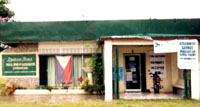 Lambonao Branch

On December 7, 1993, Bangko Sentral ng Pilipinas (BSP) approved the branching of the rural bank in Iloilo City, the only rural bank to branch out outside Guimaras. Another branch was approved on December 4, 1997 by BSP and this time in San Miguel, Jordan, Guimaras.
To further strengthen its operations to be an effective player to the progress and development of the countryside, particularly to the communities it serves, the rural bank applied for the third branch in Lambunao, Iloilo, which was again approved on February 7, 2000 by BSP and opened on June 3, 2000. The fourth branch was blessed and inaugurated on January 5, 2003 and this time at Nueva Valencia, Guimaras.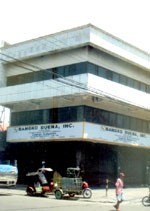 Corporate Office

Bangko Buenavista Guimaras, Inc.and the Department of Education entered into a Memorandum of Agreement on November 11, 2003 assigning Lender Code No.1044 and authorizing Bangko Buenavista Guimaras, Inc. to grant loans to Region 6 DepED personnel. On February and March 2004, more than 1,000 teachers from Negros Occidental applied for salary loans with the bank. To serve the growing numbers of customers from Negros Occidental, the Board of Directors on February 29, 2004 approved a resolution transferring Jordan Branch to Bacolod City not later than July 1, 2004 in accordance with BSP Circular No. 346.
On December 17, 2002 the rural bank changed its corporate name to Bangko Buenavista Guimaras, Inc. (A Rural Bank) and on February 27, 2004 BSP approved the change of its corporate name to Bangko Buena, Inc. (A Rural Bank) and was duly registered with Securities and Exchange Commission on May 20, 2004.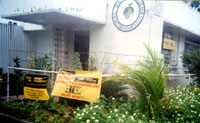 Buenavista Branch
The Board of Directors was also increased from 7 to 9 members as approved by BSP on February 27, 2004. On February 22, 2003 the board approved a resolution increasing the bank's authorized capital stock from P15.5 Million to P30.5 Million. Rediscounting lines with Land Bank amounts to P30 Million and P15 Million with Bangko Sentral ng Pilipinas.
Bangko Buena, Inc., a bank born to be lucky in the hands of the Rubin Group, is opening its fifth branch in Culasi, Antique this September 5, 2005. The blessings of the new branch office however will be held a day before. This branch, which will be the sixth banking office was approved by BSP last July 12, 2005.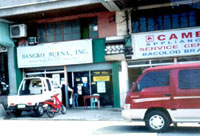 Bacolod Branch
Bangko Buena, Inc. is the only rural bank in West Visayas with 6 banking offices. With this expansion, the bank's management and staff gratefully thank their clients for the patronage. Be assured of the bank's untiring and satisfactory service all throughout and in the years to come.
The bank corporate headquarters is at the corner of Valeria-Rizal Streets, Iloilo City proper with telephone nos. (033) 337-7425, (033) 337-9279 and 508-4500.