Binirayan trophies designed by international artist
The Binirayan Foundation, Inc. (BFI), official events manager of Antique's Binirayan 2005, has tapped international artist Alan Cabalfin to design the trophies to be given away in major competitions during the festivities. Cabalfin will design and produce the trophies for Malay-Ati competition, Lin-ay kang Antique, and Bugal kang Antique awards.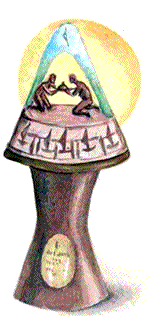 Malay-Ati trophy
The trophies are made of high-fired terracotta supplemented by resin, wood, and metal accessories. Cabalfin is a renowned ceramic artist, having trained in ceramic art in Tokoname , Japan .

Lin-ay kang Antique trophy
The trophies for Malay Ati competition has a terracotta base painted with biniday or sailboats to reflect the Binirayan motif. It supports a three-dimensional glazed sculpture showing the giving and receiving of the golden salakot as a symbol of peace, friendship, and abundance. This tableau mounted on wood with metal inscription is accented by an arch of bluish resin material that symbolizes the merging of the Ati and Malay. On the whole, the trophy resembles an arrow or a letter A, which stands for the Ati-based Antiqueño culture.
The trophies for the Lin-ay kang Antique shows the same high-fired terracotta base that supports a woman with upraised arms, trying to grasp a figure that looks like a leaf or the map of Antique. Behind it is a slender diaphanous resin accent symbolizing grace and beauty, a reminder of the true Antiqueña character.
The trophies for Bugal kang Antique, the highest award given by the province, is a three-dimensional sculpture of high-fired terracotta. From what looks like a leaf or a sail springs a bas-relief sculpture of a person gracefully arched trying to reach the highest ideals. The trophy symbolizes the nobility of the Antiqueños and their never-ending aspirations for excellence.
Artist Alan Cabalfin is one of the most exhibited ceramic artists. He is also a painter, set designer, furniture designer, filmmaker and art teacher.